What is a mosaic? Mosaic bath (photo)
Finishing surfaces in the bathroom - one of the most important issues during the repair in the apartment. Finishing material in this room is constantly experiencing temperature fluctuations and high humidity. In addition, in the bathroom it is always necessary to maintain cleanliness, so it is necessary to clean the surfaces with the use of chemicals. A great solution can be a mosaic. What is a mosaic? What is it, and what are the features of the use of this finishing material?
Mosaic. Description, characteristic
What is a mosaic? In general, this is a drawing or a pattern that is made of multi-colored pieces of enamel, glass, stones and others fastened together.
Mosaic as a finish meets all the requirements for this material.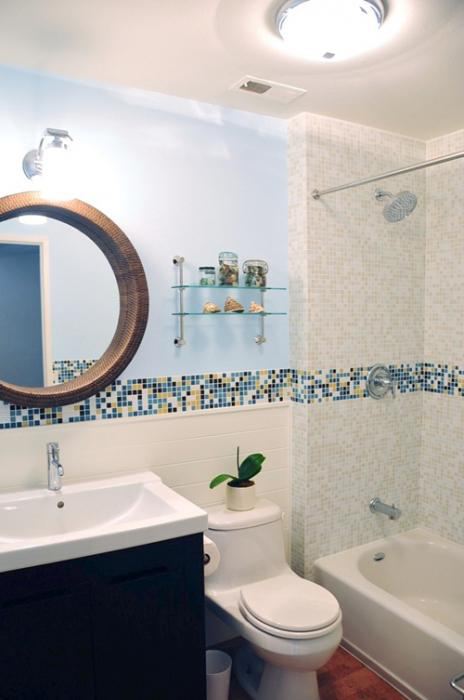 This finish is durable and reliable. It does not respond to changes in temperature and is less susceptible to exposure to moisture and fading. Its main advantage is a long service life.
With the help of mosaics it is possible to veneer surfaces having bends, niches. It is glued to any surfaces. Manufacturers offer a wide range of colors. The only disadvantage of this material is its high price. But, taking into account the service life of this material, such a repair can be considered an economical investment.
Glass and Ceramic Mosaics
What is a mosaic for a bathroom or kitchen? This is a great way to originally decorate a room and a long service life of coatings.
The entire range of mosaics, which today offer the consumer, can be divided by materials for manufacturing:
glass;
ceramic;
stone;
metal;
plastic.
Glass mosaic is a durable material that repels water. Suitable for cladding any bathroom surfaces, with the exception of the coating on the floor, as the glass is very slippery. A rich palette of colors makes it possible to decorate the surface of the room in an original way.
Ceramic mosaic (photo presented in the article) - mini-version of the tile. Good combination of price and quality. Like the glass trim, this material is not suitable for flooring.The glaze applied to the ceramic base makes the mosaic slippery.
Stone, metal and plastic mosaics
Stone made of natural stone. It is ideal for finishing the floor in the bathroom. This is an expensive material. Since the manufacture of such a mosaic - a time-consuming process of natural finishing stones. It can be used for finishing worktops and other bathroom elements.
Metal mosaic - a relatively new type of finishing material. For a bathroom such material is used as separate elements and only for walls. Metal cladding is more suitable for finishing the apron in the kitchen. This tile has a high wear resistance, well withstands the effects of temperature. It is used for kitchens made in techno style.
Plastic mosaic - a budget option, designed to replace the expensive natural. The main disadvantage of this material from the previous ones is fragility and low strength.
Mosaic colors. A photo
With the help of mosaics you can create interesting drawings, panels on large surfaces, ornaments and even paintings.A variety of shades and colors makes it possible to beautifully decorate the bathroom.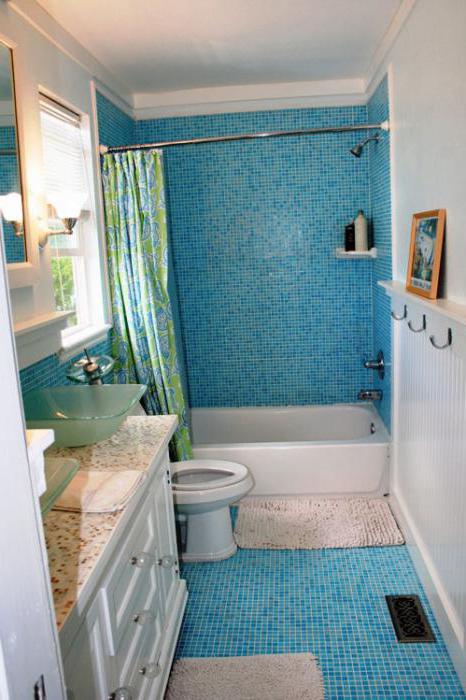 Before buying a tile-mosaic should measure the room, decide what colors will be finished. For this room the most common colors of finishing material:
blue;
turquoise;
white;
lime,
green,
azure.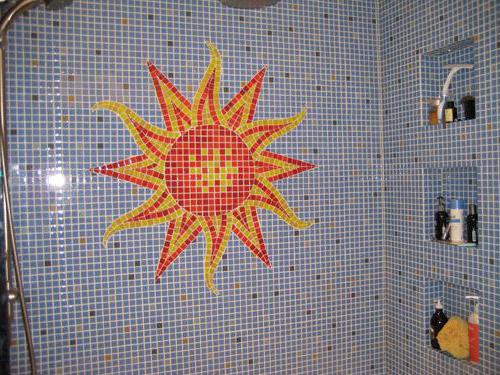 But all very individually, you can use rich purple, pink and lilac shades. It should be remembered that with the help of lighter colors, a small bathroom can be visually enlarged.
How to choose a mosaic for the bathroom?
What to look for when buying a mosaic for a bath? On:
1. A grade of facing material. You should buy a mosaic of the first grade, it will last longer. The first grade is red, the second grade is blue, and the third is green packaging. Such a division is taken in the international designation.
2. The quality indicator of mosaic - resistance to aggressive substances. On the package, this indicator indicates the flask.
3. Wear resistance - a foot will be painted on the package on a shaded surface. This means that the material is durable.
4.Mosaics for the floor, among other things, must have a non-slip coating.
Mosaic. How to choose a kitchen?
The mosaic in the kitchen is not just a beautiful design, it is very practical. Care for such a surface is simple and does not require much effort. The tile of a mosaic well washes, long keeps the color, at the same time without being exposed to aggressive washing substances and the sun.
The best material for finishing the work surface and some elements in the kitchen is glass.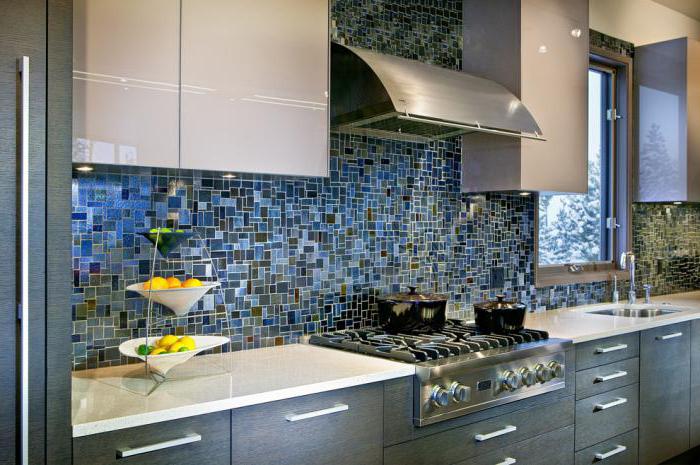 For the original interior materials can be combined:
glass + ceramics;
ceramics + metal.
You should not use a stone mosaic for kitchens. Natural material absorbs liquids well, such as juices, tea, coffee. It is also undesirable mosaic for the kitchen of plastic. After all, exposure to high temperatures will negatively affect it.
What is a mosaic? How to work with her? Features of work
Mosaic is sold in the form of plate plates of various sizes. Plates can consist of monophonic elements pasted on the grid, or multi-colored mixes. It is considered that it is difficult to work with such facing. But in fact, it is easier than laying a regular ceramic tile.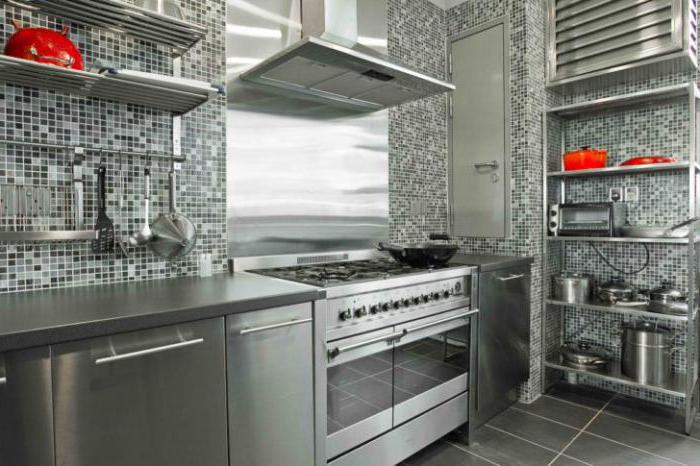 For laying should prepare a flat surface.This material can not hide the irregularities of the wall and will repeat all the flaws.
For pasting using a special adhesive for the mosaic. It is best to buy glue, similar in color to the finish. Available in white, beige, gray. It is not recommended to use glue for ceramic tiles.
The great advantage of the mosaic over ordinary tiles is the flexibility of the elements, which make it possible to veneer rounded, curved surfaces and walls.
Tools for work:
spatula for grouting with a rubber surface;
spatula with teeth for glue;
sponge.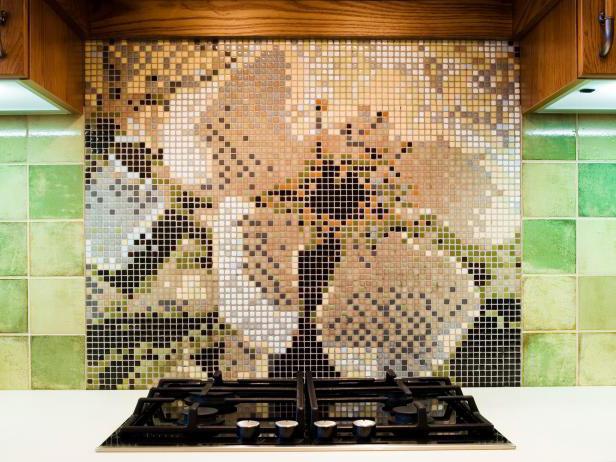 For the final stage will require grout for joints. It is applied only after the glue has completely dried. The grout color is matched to the shade of the lining.
Mosaic producing countries
The market of finishing materials is rich and diverse. The consumer has the opportunity to choose a mosaic for different rooms in accordance with their capabilities and needs. The list of major manufacturers of mosaics is as follows: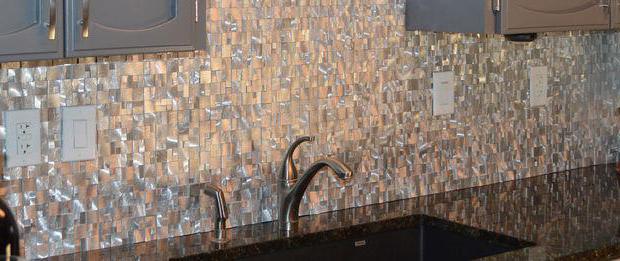 Leading place is Italy. The Italian mosaic is distinguished by bright colors, the use of advanced technologies in production and high-quality materials.
Next is Spain. Spanish mosaic is simplicity combined with quality.Modern manufacturing process includes a special treatment that perfectly protects the material from burnout and exposure to water.
Polish mosaic, reviews of which are only positive, refers to quality materials at relatively low prices. The color scheme is inferior to Italian and Spanish, however, Polish mosaic is in demand among consumers. Stable wear resistance allows you to use this material in the decoration of bathrooms and swimming pools.
German mosaic has a restrained color palette and excellent quality. It has high performance data, moisture resistance and excellent durability.
Chinese mosaic - one of the most common on the market. Chinese manufacturers successfully copy products of Italian and Spanish colleagues, giving the opportunity to purchase finishing materials at an affordable price.
Mosaic of domestic production is also commercially available. Russian glass, stone and metal is in demand.
Small conclusion
Now you know what a mosaic is, what it is like. We also indicated where this finishing material is used.Also in the article were given tips to help you choose the right mosaic for your room.
Related news
What is a mosaic mosaic bath (photo) image, picture, imagery