TSODD demands to initiate a case against a Muscovite for stickers on the "murder" of transitions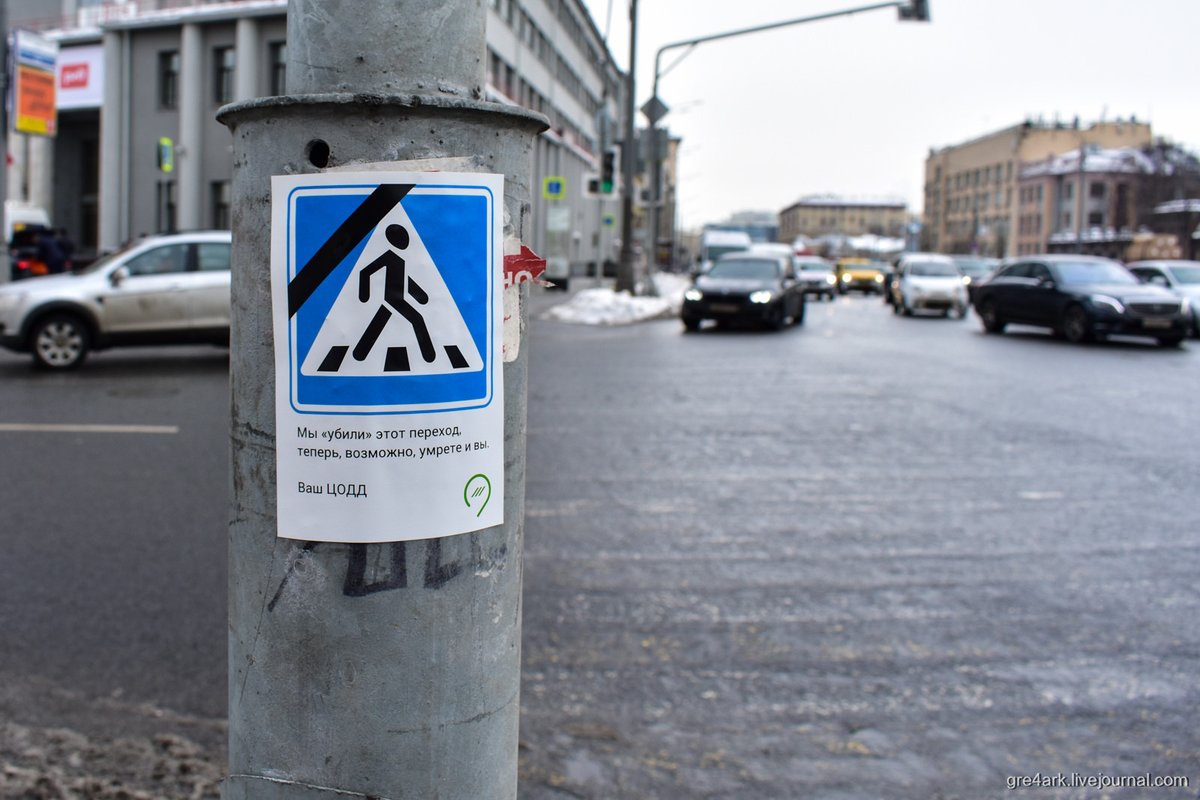 Photo of Arkady Gershman
Moscow urbanist Alexei Radchenko, who advocates the preservation of safe ground crosswalks, has become a defendant in the administrative case due to the use of symbols of the Traffic Management Center (CTO) on stickers "killing" the crossings. He is threatened with criminal prosecution, Radchenko told Varlamov.ru.
On April 6, Radchenko was summoned to a polling station in the Basmanny district police station, he refused to testify, referring to article 51 of the Constitution. The police drafted a report on the illegal use of someone else's sign (Part 1 of Article 14.10) and told him to wait for a subpoena — under this article Radchenko faces a fine of between five and ten thousand rubles.
The protocol itself: pic.twitter.com/KiHUhj8Tod
- Alexey Radchenko (@egor_kenny) 6 April 2018
In the police, an urbanist was shown a statement from a TsODD employee Nikolai Kirilenko, who asks to involve him under a criminal article about illegal use of another sign, if it was done repeatedly or caused major damage (Article 180 of the Criminal Code, part 1). Large damage is recognized here, the amount of which exceeds 250 thousand rubles. Under this article, Radchenko faces up to two years in prison if actions were committed by an organized group - up to six years.
The reason for the statement was the stickers for the campaign participants, in which activists are planning to organize "security points" - "a demonstration of the possibility of temporary pedestrian crossings", follows from the description of the campaign on Planeta.ru website. Stickers are offered as a reward to those who donate 200 rubles for the campaign.
According to Radchenko, it follows from the statement of the TsODD employee that the chief asked him to go to the campaign website and purchase stickers. "At the same time they are not on the site, and there is no logo. That is, legally I did not break and did not sell them," the urbanist noted.
Write a commitment to turnout Radchenko refused. The district "made it clear that while the administration, and then we'll see."The police Muscovite "repeated many times that the authorities put pressure on them, and that this is from the prosecutor's office and the big-shots."
In February, Radchenko filed a lawsuit against the Central Department of Information Technology and the Moscow Department of Transport, which concerns the elimination of crossings through Verkhnyaya Syromyatnicheskaya and Novaya Basmannaya streets. In total, the lawsuit was signed by nine activists and eight municipal deputies.
Writing appeals - you get the formal replies. Ask for help - send. You file a lawsuit - you get a case. The @gucodd security methods are impressive.
Related news
TSODD demands to initiate a case against a Muscovite for stickers on killing transitions
TSODD demands to initiate a case against a Muscovite for stickers on killing transitions
TSODD demands to initiate a case against a Muscovite for stickers on killing transitions
TSODD demands to initiate a case against a Muscovite for stickers on killing transitions
TSODD demands to initiate a case against a Muscovite for stickers on killing transitions