Sea buckthorn wine: homemade recipe
Sea buckthorn wine has a mild flavor, a pleasant aroma and a magnificent orange hue. However, in order to prepare a drink, it will take a lot of effort and effort, since sea buckthorn is a rather whimsical berry.
Plant properties
Sea buckthorn is a surprisingly useful plant. It has many healing properties. As part of the berries are such useful vitamins as C and A, H and PP, E and B1, B2 and B3, B6 and B9. Calcium, magnesium, sodium, potassium and phosphorus are also present. The bark of the plant contains serotonin.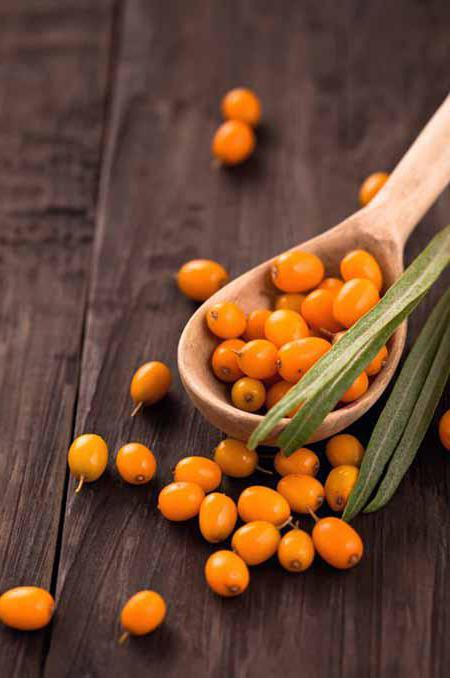 Berries are often used in pharmacology, cooking, as well as in traditional medicine, as sea buckthorn has a huge range of healing qualities. Most housewives brew delicious jams and fragrant jelly from the fruits of the plant, but not everyone knows that the berries are also suitable for home winemaking. And when to collect sea buckthorn? And what recipe to use for making delicious wine?
Picking berries
Many amateur gardeners each year ask the same question: when should we collect sea buckthorn? After all, it is very important to determine the correct time for picking berries. For example, unripe fruits are not suitable for making a quality product from them. As well as overripe berries, which can become a bad companion when collecting components for wine production.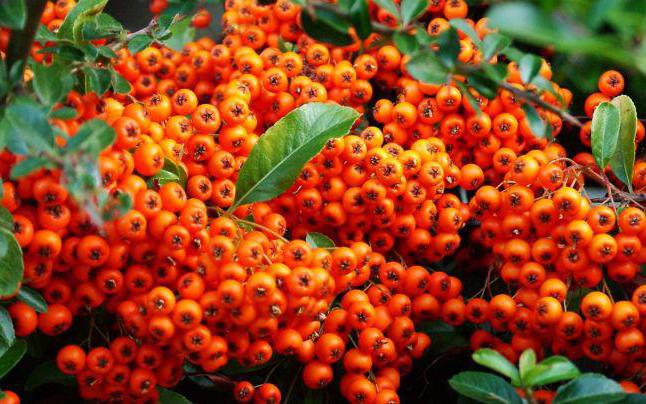 When picking a berry, you should pay attention to it being completely ripe, but not over-ripe, and you should also not take the fruits that burst directly in the palms.
In order to correctly determine the time of collection of berries, you should pay attention to its color. The fruit of the plant must acquire a color that is characteristic of a particular variety of berries. As a rule, the color can vary from golden yellow to bright orange.
Definition by month
In the middle or at the end of the last summer month, early sea buckthorn varieties ripen. At the beginning or in the second decade of September, you can collect mid-season varieties of a medicinal plant. In late September, as a rule, late sea buckthorn varieties reach their biological ripeness.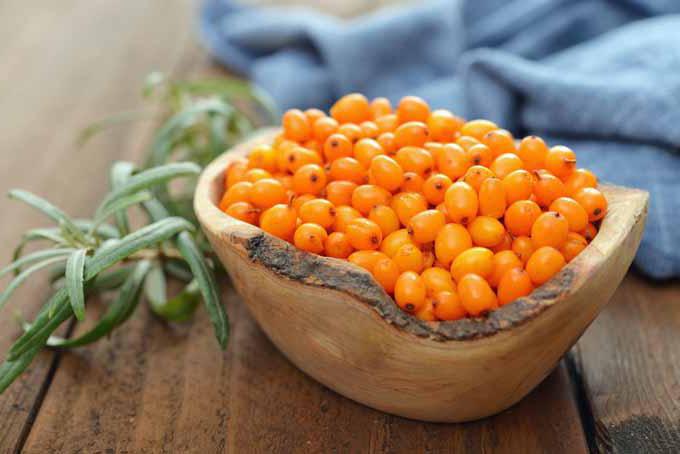 Once the berry is torn, it must be sorted.Not quite high-quality (with rotten and infected with insects) must be eliminated, because it can give the wine a putrid smell.
Guide to action
To make sea buckthorn wine with a delicate taste and unique refined aroma, you need to follow these recommendations:
Do not use wire or any other available materials while picking berries. Collect the fruit only manually to avoid damage to their integrity.
When preparing an alcoholic drink, it is necessary to use pre-filtered spring water or well water.
Squeezing juice is necessary only with the help of gauze, previously folded several times.
After the fermentation process comes to an end, remove the crust formed using skimmer.
Homemade sea buckthorn wine
Fans of home winemaking, as a rule, prefer a light alcohol drink based on sea buckthorn to other blanks. Cooking a delicious wine takes a lot of time and effort, but the result, according to experts, is worth it.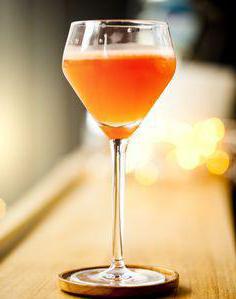 Our article proposed several recipes for sea buckthorn wine at home. First recipeas follows.
Required components:
sea ​​buckthorn juice - 1 liter;
sugar - 800 g;
water - 1.5 l.
Practical part
Before you proceed directly to the preparation of the drink, you must clear the collected fruit from debris. It is not necessary to wash the berry, since there are yeasts on its surface, which can be lost with the help of water. After that, the berry should be squeezed out, and leave the resulting juice for 30 minutes. After the necessary time, the resulting juice should be poured into glass containers, adding 0.5 kg of granulated sugar and water.
On the 4th, 7th, 10th day, 100 g of sugar should be added to the glass container. After 30 days, the resulting drink must be filtered in cans. A rubber glove should be worn on the neck to control the fermentation process, releasing accumulated air daily.
After 5 days, the wine can be poured into a clean bottle, tightly covered and stored in a dark place. You can taste the wine after 6 months.
Sea buckthorn wine: a recipe without yeast
This alcoholic drink not only tastes great, but also has healing properties. The composition of the drink includes healing oils and a variety of nutrients.
To make a delicious sea buckthorn wine, you need the following components:
sea ​​buckthorn fruits -1.5 kg;
sugar - 0.7 kg;
water - 700 ml.
Start the practical part of the need to clean the berries. After that, sea buckthorn should be kneaded with a rolling pin and poured into a glass container. In order to pour the berry syrup, you first need to cook it. To do this, add 200 g of granulated sugar to the boiled water at room temperature and mix it thoroughly. Then, the resulting sweet syrup should be poured into a jar and closed with sterile gauze, periodically stirring the contents for 4 days.
After the allotted time has passed, add 100 g of sugar to the fermented syrup and mix the contents thoroughly. Put a rubber glove on the neck of the can and pierce it in one place. Do it in order that there was no accumulation of air.
Every day, the fermented mass should be mixed with a wooden stick. On the 7th and 10th day, add another 100 g of granulated sugar. On the 11th day, the obtained sea buckthorn drink should be carefully filtered in a sterile container and left to ferment further. Sea buckthorn oil appearing on the surface must be removed every day.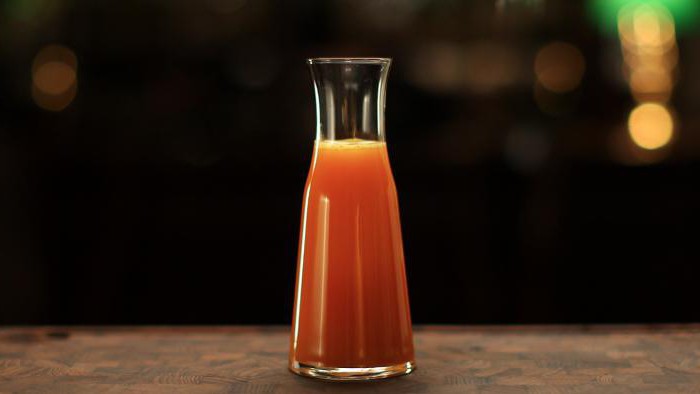 About once a month, healthy alcohol should be filtered and poured into cans, trying to taste the drink.If the glove on the neck suddenly will not inflate, as before, then the sea buckthorn wine is ready for use.
Jam based wine
You can also make wine from sea buckthorn jam. It is usually obtained soft and pleasant to taste. To prepare such an unusual drink, you need the following components:
jam (no matter fresh or candied) - 1 kg;
water - 2 l.
In a sterile container, you must mix the jam with water. It is best to use spring water, having boiled it beforehand. For fermentation, a large bottle should be prepared, as it is likely that the content will rise during the process. Wine yeast should also be added to the bottle, after which the container should be left in a dark place for some time, covered with sterile gauze.
After 10 days, the fermented mass should be drained and put on a rubber glove. At first it will rise, then it will drop, which indicates the completion of the fermentation process, which usually lasts 3 months.
After that, the alcoholic drink can be poured into clean bottles with tight lids and left for some time in a dark place.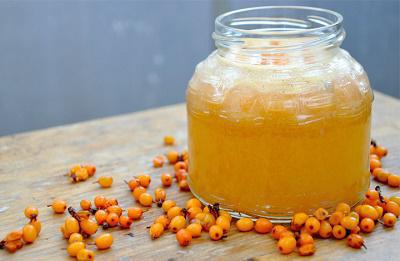 Sea-buckthorn drink has a delicate taste and a wonderful aroma, not without reason it is considered one of the decorations of any holiday table. The strength of the drink is 27 degrees. Store sea buckthorn wine is recommended in the basement or refrigerator. Consume wine, usually in chilled form. If storage conditions are met, a healthy drink can be saved for about 3 years.
Prohibition of use
However, like any other medicinal plant, sea buckthorn has a number of contraindications that must be considered before using the berry for personal purposes. So, sea buckthorn and, therefore, sea buckthorn wine is not recommended for use in the following disorders:
in the presence of allergic reactions to the plant;
bronchial asthma;
gastritis, as well as inflammation of the pancreas, duodenum and gallbladder;
urolithiasis.
The preparation of alcoholic beverage from a medicinal plant is a rather painstaking and time consuming work. By the time the whole process can take several months and sometimes years. However, if none of the households has any contraindications for use, it should be done, as the result is not only an excellent semi-sweet wine, but also a useful drink with healing properties.
Related news
Sea buckthorn wine: homemade recipe image, picture, imagery