How to draw Dipper from Gravity Falls. Step-by-step instruction
Dipper - the central character of the animated series "Gravity Falls". He has a twin sister Mabel. Dipper loves all sorts of adventures. He is smart, brave and curious. For these qualities, he likes children around the world. Many children and their parents are wondering how to draw Dipper from Gravity Falls. With the help of a simple step-by-step instructions, you will easily be able to portray your favorite hero of the animated series.
How to draw Dipper?
First, draw a circle and add a curved line to it from below to make a shape that looks like a bean. This will be Dipper's head. Draw a cross in the center of the head. Under the head, draw the contours of the body, as in the figure.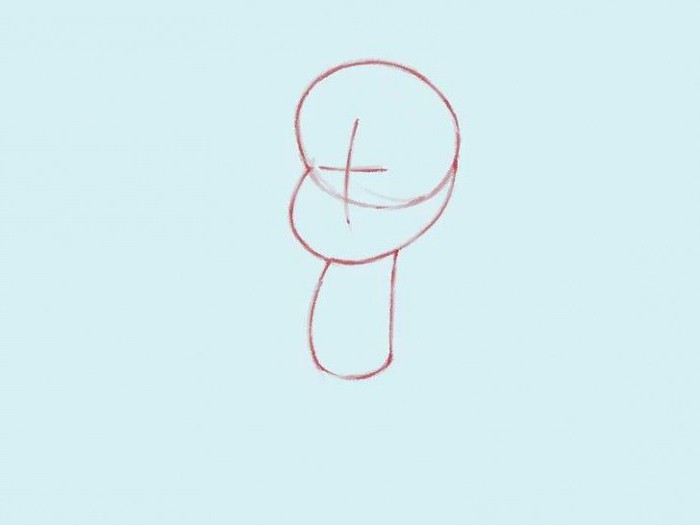 Now draw the arms and legs. It's not very difficult - just repeat the curved lines in the same way as in the figure.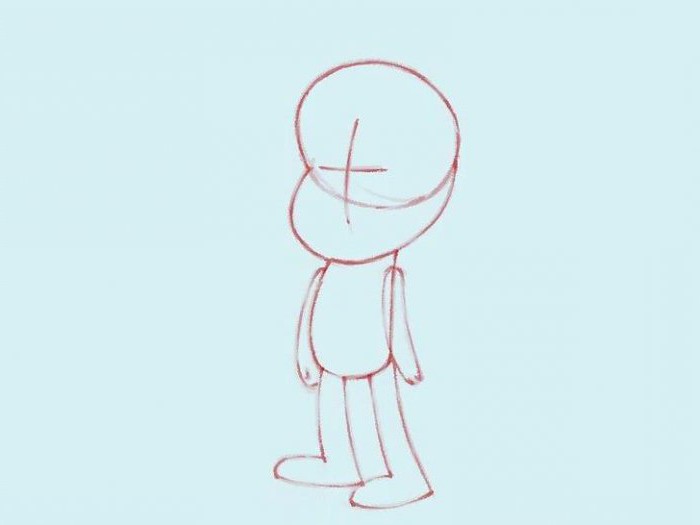 How to draw dipper eyes? Use the cross in the center of the head to position them correctly.First draw two large circles with a dot in the middle. Then draw curved short eyebrow lines above the eyes. At the bottom between the eyes, add a nose, as in the figure, and another curved line - a mouth with a smirk.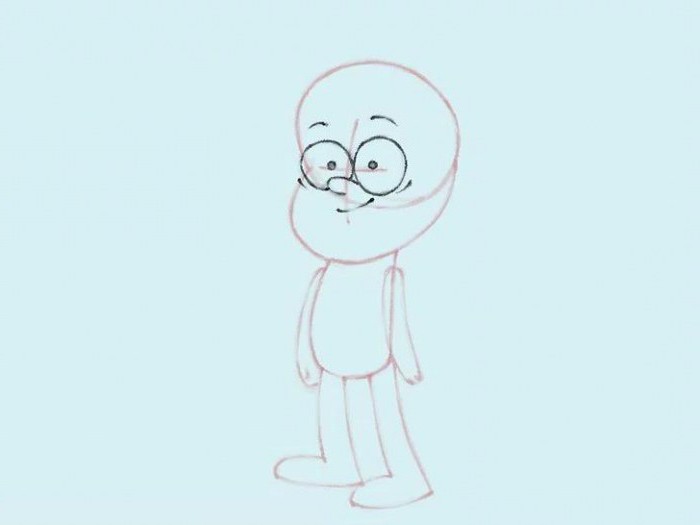 It is time to draw a cap. Start drawing from the base of the headdress. Then add a visor and pompom. On the front of the cap, draw a Christmas tree. How to draw dipper hair? Just add the curved lines under the cap and on the visor. Do not forget to add a character ear when you draw hair.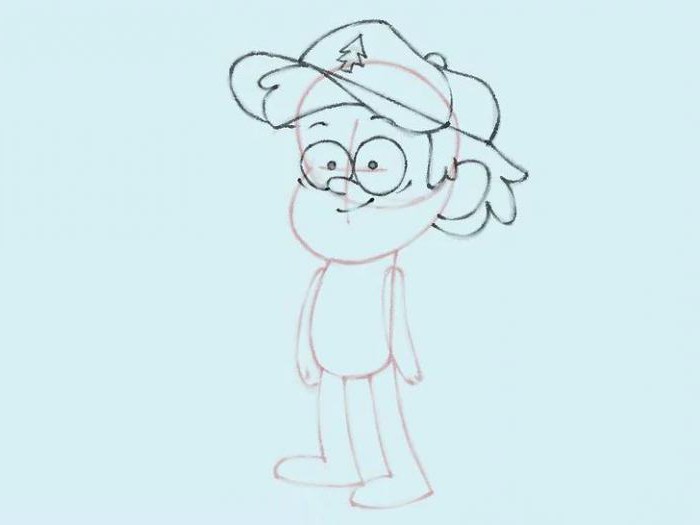 Now we will add clothes and accessories to the boy, as shown in the picture. First we draw a vest, T-shirt and shorts, and then socks and boots.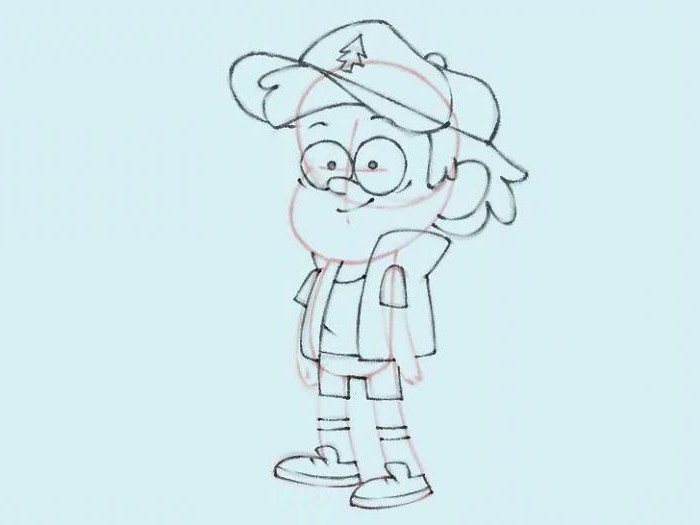 There are very few. At this stage, it is necessary to erase the extra lines and bring darker necessary ones. Very soon our drawing will be ready.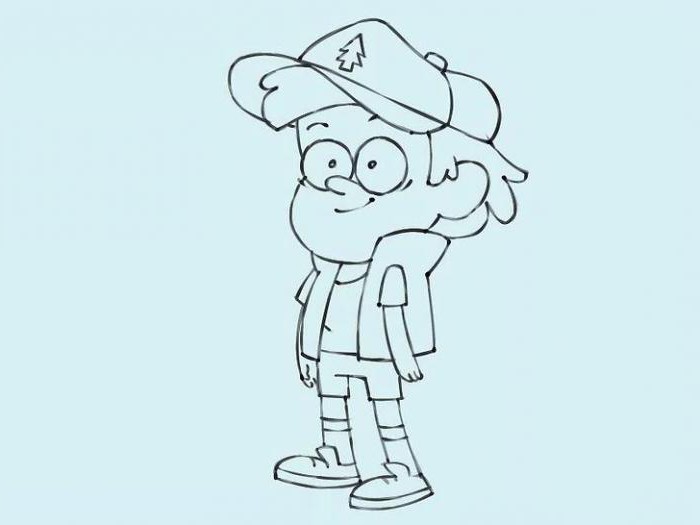 And, of course, we color Dipper. He usually wears a white and blue cap, a red T-shirt, a navy blue vest and gray shorts.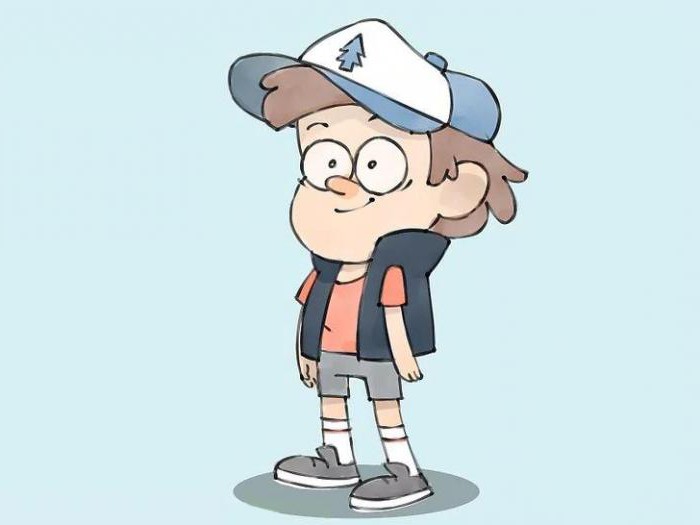 Useful tips
To draw a contour, use a sharply sharpened pencil. Dumb is good to use for drawing shadows on drawing and pointing lines.
Before drawing the main part, draw auxiliary lines - so the proportions of the image will be more accurate.
If the first time you did not manage to draw beautifully - do not worry and try again. Mastery comes with experience.
Related news
How to draw Dipper from Gravity Falls. Step-by-step instruction image, picture, imagery