How to create a Christmas mood in the house? Preparing for the New Year
How to create a Christmas mood? First you need to decide: exactly how you want to celebrate the New Year holiday. It is important that it becomes joyful and memorable. To let the holiday into the house even some time before its occurrence, it is necessary to perform a series of simple and pleasant actions.
DIY beauty
Incredibly fun to make Christmas crafts. Especially if there are children in the house. Snowflakes with beautiful patterns, cut from white paper, will decorate the windows of an apartment or house. Garlands of colored paper can decorate the children's room or the living room. Small handmade dogs made of cloth and cotton will be wonderful gifts and talismans for the whole year for close people.
Perhaps the most important of the New Year crafts is the Christmas tree. It is enough to take an old poster or calendar and fold it in the shape of a cone.And then twist it in green or white fluffy rain. You can hang on the resulting Christmas tree toys, pinned them on small needles. The resulting product can be put on the table, bedside table or piano.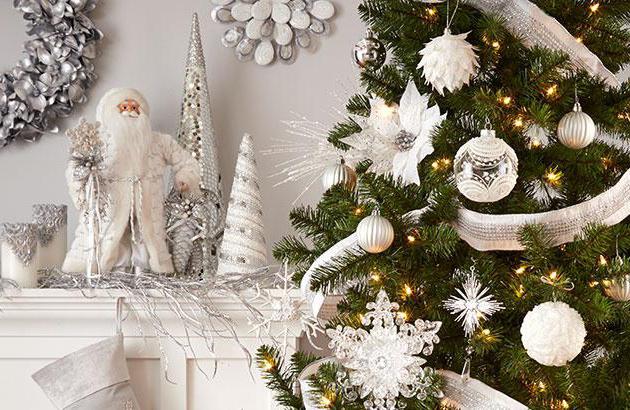 Home decoration
Christmas decoration of the apartment is an important element of preparation for the holiday. It is worth starting, of course, with the cleaning. Neatly cleaned house can already be decorated. The first is the installation of the main New Year attribute - the Christmas tree. Nothing can create a new year's mood in the house like she does. Basically, the Christmas tree is set in the largest room. Its decoration is a real magic ritual, which everyone associates with childhood and magic.
A great Christmas idea is to buy a new toy every year. Then each toy will recall the year in which it was purchased. Having decorated the Christmas tree, you can begin to decorate the whole room. Rain, festoons, streamers - all this will do. It remains only to evenly distribute the decor around the room.
On the windows you can draw frosty patterns in white paints or spray cans. This option is particularly suitable for those who live where the snow did not fall on the New Year.
To buy cushions and blankets with a Christmas theme is a great idea. In stores on the eve of the New Year, all this will be in a grand range. There will also be a way and festive linens. For the New Year's decoration of the apartment, you can arrange the candles, spread out the fir cones. But, of course, in reasonable quantities. If there is an artificial Christmas tree in the house, it will be great to place a few fir branches in the vases. They will bring home the magical scent of the New Year.
Cozy family evenings
What else can create a Christmas mood, like family viewing of New Year films and cartoons! And may many of them already know each other very well. They will immerse everyone in the atmosphere of celebration and fun. To this must be added hot chocolate or mulled wine and hot cinnamon buns. Also a great solution is to create a playlist with New Year's songs. Music will give everyone the appropriate mood. How to create a Christmas mood on your computer? Put on your desktop winter or new year screensaver.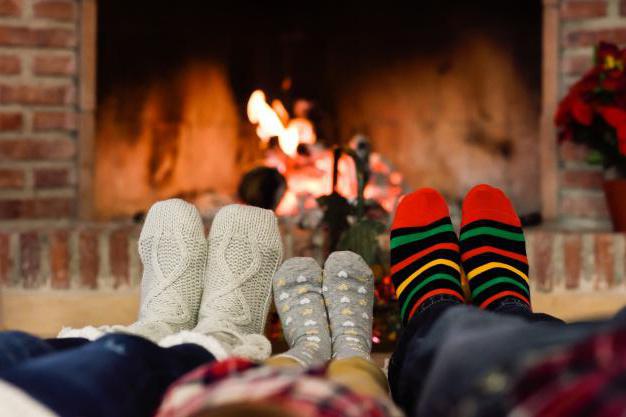 stroll
If it is snowing outside, it's definitely not worth staying at home.Go out for a walk through the snow-covered city, enjoy the New Year's decoration of the streets, just admire the decorated Christmas tree. New Year's bustle will charge a positive for a long time. In the snow-covered park or in the forest, the impressions will be especially strong, because there you can be alone with nature, feel like the protagonist of a New Year's fairy tale. You can make a snowman, play snowballs and ride a sled. Or arrange a wonderful winter photo shoot.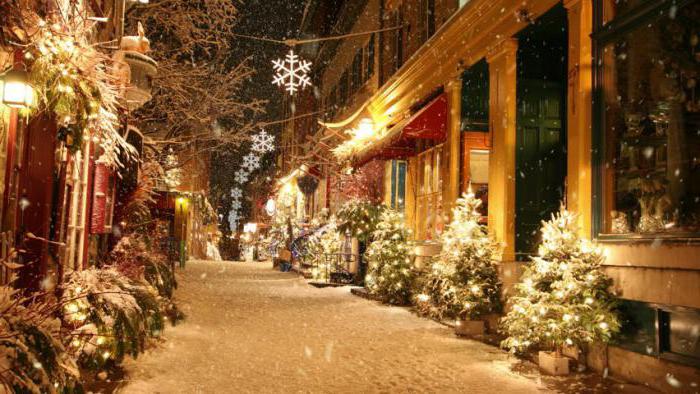 Gifts
Preparing for the New Year also includes the purchase of gifts. What and who to donate, you must think in advance and make a list. It is better to start looking for gifts in advance, than to rush to buy what remains. Of course, the most current gift is the souvenir symbols of the coming year. There will be a lot of them in stores, there will be plenty to choose from. You can purchase original Christmas toys as a gift. For relatives, you can buy warm clothes (mittens, scarf or hat). Do not spare money on gift wrapping. Packaging will make a surprise more original and presentable. In addition, how interesting it is to deploy it when the intrigue is preserved: what is there.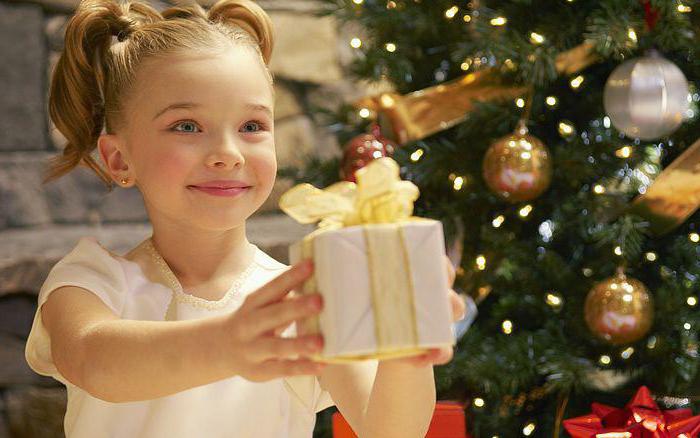 An excellent addition to the gift will be sweets and tangerines. Still, it's impossible to stay on the New Year without sweets and the smell of tangerines. Children can donate chocolate Santa Clauses.
Christmas cards are so beautiful that it is very difficult to choose only a few of them. You can do it yourself, if time permits and there is a desire. Making Christmas cards yourself is a very exciting experience. There are countless options, how and from what to do them. Gifts, in which work and creative imagination are invested, are much more pleasant to receive than those for which money is simply paid.
Do not forget about yourself. Buy what you dream about for a long time is incredibly nice. And you can afford something new. The main thing is to make your soul light and happy.
New Year's menu
Thinking over the menu for the New Year also needs to be done in advance. Maybe you should buy a new dish, tablecloth or interesting accessories and decorations for the table. Find new original recipes or long forgotten grandmothers. In order to plan the menu, it is necessary to decide how many guests to invite to the party.
Letter to Santa Claus
When there are children in the house, it will be interesting to write with them a letter to Santa Claus in which the whole family will write their cherished wishes, share New Year's ideas. This can be not only what can be put under the tree, but also what I would like to accomplish during the coming year.
Choosing a Christmas tree
How to create a New Year's mood without a New Year tree? Therefore, the selection of Christmas trees should be taken seriously. Living spruce or pine smell amazingly. And an artificial tree will take less hassle, and sometimes it looks more aesthetic. When choosing a Christmas tree, consider the pros and cons of all options.
In addition to smell, spruce brings fresh air into the house, because it cleans it from dust and harmful substances. Therefore, live fir is very useful for those who suffer from respiratory diseases. But spruce - very expensive purchase. In addition, it can cause allergies. And over time, the spruce will begin to crumble and lose its original charming appearance. Cleaning after its removal will be quite difficult.
To spruce stood longer, you need to choose it correctly. It is preferable to buy a tree with the thickest trunk.Blue spruce costs longer than the others, but for the price, of course, more expensive.
Having bought spruce, it is necessary to leave it for a day in a cool place so that the process of acclimatization takes place near the tree. Only after this, bring to the right room and leave for several hours in the package. To spruce stood as long as possible, it should not be placed next to heat sources. If this is not possible, it is necessary to provide additional beauty to the forest beauty. For this fit a humidifier. An even better option would be to place a container with water next to the heat source.
When a tree becomes accustomed to room conditions, it is necessary to clear the trunk from its bark by a few centimeters, cut the sawed part, peel the sides. This procedure should be carried out under water, because it will preserve the cut and prolonged eating life. To get the tree moisture, it must be put in a special stand, which will be water or wet sand. If you put a tree in such a stand is not possible, then you can wrap a place with a wet rag.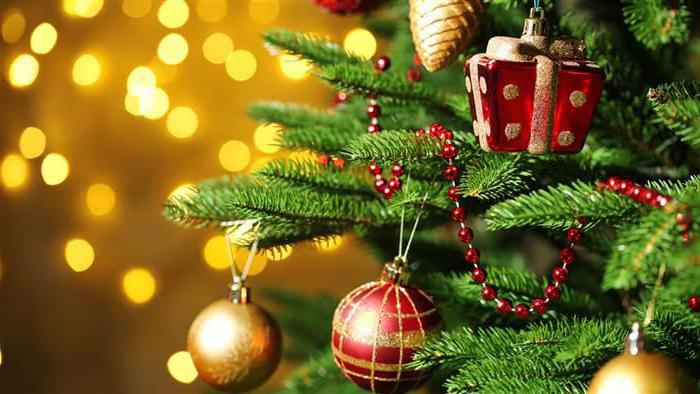 Artificial Christmas trees are distinguished by a long service life. Choose your favorite tree is not difficult, especially since they are offered in a wide range, focusing on the different tastes of buyers.It is easy to put an artificial tree, it is only necessary to insert branches into the trunk, and then install the Christmas tree on the stand.
Related news
How to create a Christmas mood in the house Preparing for the New Year image, picture, imagery