Calista Luxury Resort 5 * (Turkey, Belek): photo. description of rooms, service, reviews of tourists
Hotel Calista Luxury Resort 5 * is one of the best places to rest in the city of Belek. She has everything so that you forget about your problems and fully immerse yourself in the comfortable and favorable atmosphere of a carefree vacation. It is about this magical place for recreation and entertainment will be discussed in our article.
Where is
First, let's look at where the hotel Calista Luxury Resort 5 * is located. As it was already noted earlier, the nearest large settlement to it is Belek. The distance to it is only 4 km, which can even be overcome on foot without any problems, and if you do not want to walk in the heat, you can use the services of a taxi or regular buses.
The nearest airport is in the administrative center of the region - the city of Antalya, 27 km away, that is, you need to spend about half an hour on the road.
In relative proximity is located another resort city - Side. It is 44 km away and about 40 minutes drive.In it you can see the ruins of the ancient city, take a walk along the picturesque promenade, dine in a beautiful cafe overlooking the sea.
Number of rooms
Hotel was built in 2007. Its total area is 120,000 m2. On the territory there are seven four-and five-story buildings. They have 502 rooms, the area of ​​each is 52 m2. The rooms have a living room with a sofa, a bedroom, a bathroom with a shower and a balcony on which there is a table and sun loungers for day or evening relaxation.
Description of the rooms Calista Luxury Resort says that guests can use an electric kettle, a set for making tea or coffee, a TV with Russian-speaking channels, a safe, air conditioning, a hairdryer and, of course, a mini-bar. All this is included in the cost of the permit, that is, in this case it is not necessary to pay extra for using a safe or mini-bar.
There are 18 two-room suites, the area of ​​which is already 70 m2. The difference in this case is that there are 2 sofas in the living room.
Complements the list of 63 duplex rooms. They have a living room, a balcony and one bathroom on the first floor, and another bathroom with a jacuzzi and a bedroom on the second floor. The area of ​​the apartment is 80 m.2.
Separately, there are two rooms - Presidential Suite and one King Suite. In the first case, the area of ​​the room is 160 m2. The layout includes a living room, which can be used as a dining room, two bedrooms and two bathrooms. The balcony offers a magnificent view.
King Suite has another large area, which is already 240 m.2. The room has three separate rooms. One of them is a living room with a dining area, the other two are spacious bedrooms. The apartment has two separate bathrooms and one shared balcony.
The owners of the last two types of rooms provided VIP-service. Food in this case is exclusive and does not require a visit to the main restaurant - everyone can bring in the room.
Villas
In addition to the seven previously mentioned multi-storey buildings, there are also 14 two-storey villas on the territory of this hotel complex.
Ten of them are Twin Villa, that is, the villa is divided into two separate parts of 150 m2, each of which has a separate entrance. These apartments include a living room, a dining room, a terrace on the first floor and two bedrooms with a balcony on the second. The only thing that unites them is a common pool.
Three villas - Superior Villa, this is a two-story houses with an area of ​​260 m2for one family. On the first level there is a living room, a study, a dining room, a terrace and a separate pool, and on the second level there is a balcony, three separate bathrooms and three separate bedrooms.
Separately, on the territory of this complex, Villa Vip Villa Leo is distinguished by a three-level layout, whose area is equal to a fantastic 1500 m.2. There are 4 bedrooms and a bathroom, there is a separate cinema, a study and a living room with a dining room. All this is complemented by a separate sauna and jacuzzi.
Fourteen comfortable villas are VIP-rooms of Calista Luxury Resort.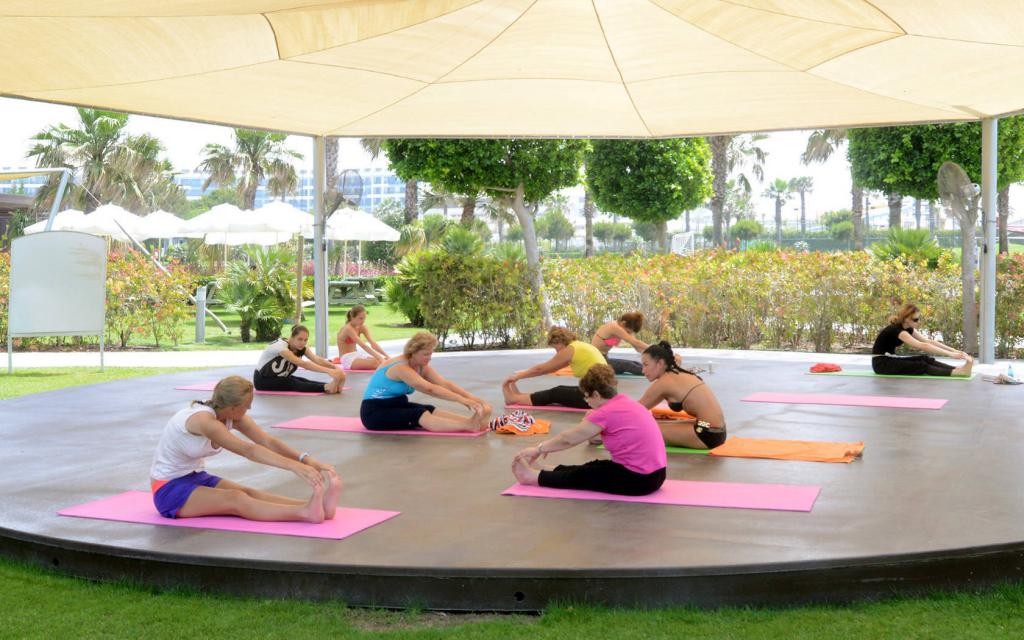 Range of services
No complaints and level of service at Calista Luxury Resort. It provides all the important components of modern recreation. Turkish bath, hammam and Jacuzzi with Finnish sauna are absolutely free. The number of visits and available hours should be specified at the reception, since there is always a queue for pleasure.
The price of the tour includes a game room with machine guns, aerobics classes, a gym and a disco. Mini-football, basketball, volleyball, billiards and table tennis are also provided free of charge, like aqua aerobics and live music.
For a fee, you can take tennis lessons from a professional coach,pay for evening court lighting, bowling and some water sports, including parasail, water skiing and surfing. In the latter case, a special certificate is required.
The complex has a large cinema, but it works fully only in winter. In summer, it is opened only during some major competitions. For the animation, a large amphitheater was built at the hotel, which can accommodate all visitors at the same time.
All of the above points to the fact that it is certainly not necessary to miss a vacationer in this fabulous place. Everyone is sure to find something for everyone.
The beach and its features
Like any other hotel complex of this class, Calista Luxury Resort has its own private beach, and the hotel is located directly on the seafront and the distance to it is minimal. The beach has a sand and pebble cover, there is a pier and two bars, in which everything is free for hotel visitors. The same applies to sun loungers, towels and umbrellas. The only thing you need to pay attention to - tents. They are provided only on a paid basis, it is advisable to rent a tent only for fairly large groups of tourists.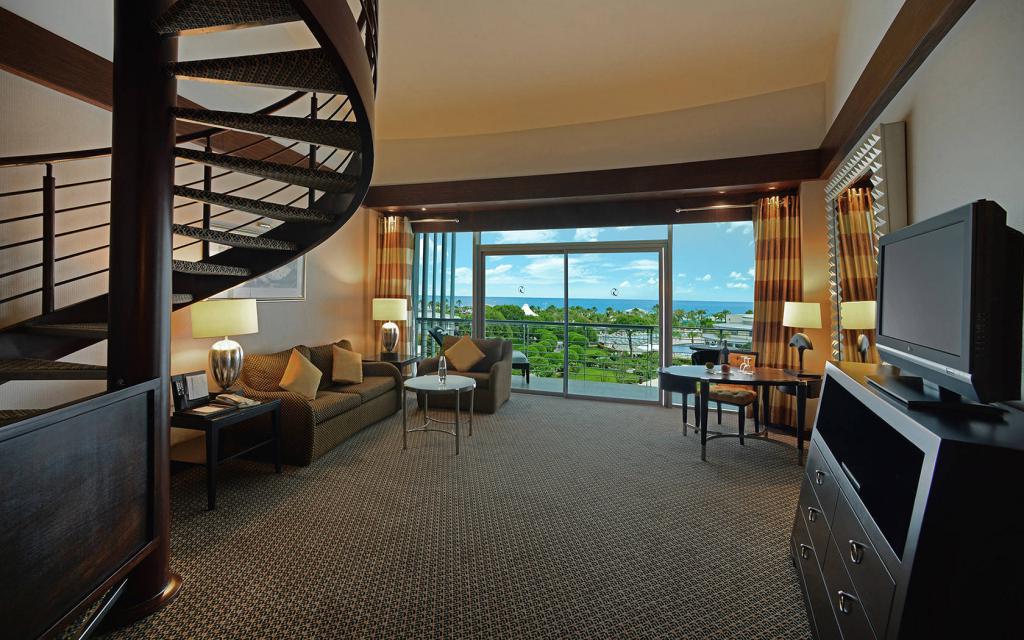 Where can kids have fun?
A special approach to the organization of children's activities is in every hotel in Turkey. Calista Luxury Resort in this regard is no exception. For the smallest visitors of the complex, a separate shallow pool is allocated, which is adjoined by a miniature slide. The complex operates from May to October, that is, exclusively in the warm season. In winter, babies can already swim in the indoor pool.
The hotel has three playgrounds with slides and swings.
In addition to this, there are three specialized interest clubs. One of them is called Calimero Minies, whose visitors are between 4 and 7 years old. The second is Calimero Maxies. In this case, the age of children should be 8-12 years. And the last one, the third - Calimero Teens. The age of its participants is 13-17 years old. Such a division makes the rest of each child the most interesting: children communicate only with their peers, that is, the range of interests they have in common, and therefore there are no problems with communication.
There is a separate children's buffet, which operates only during breakfast or dinner. All previously listed services are provided free of charge for the reason that they are included in the tour price.
But babysitting services require a separate fee.
Local Attractions. What can you see?
Among the natural attractions of the city Belek worth noting thermal springs. There are many natural parks in which you can admire the nature of this region in full glory.
Among the historical monuments are the ruins of the ancient Roman city of Perge. In addition there is a small water park and a dolphinarium. The list of entertainments is diluted by bars, cafes and restaurants. Well, many shops allow you to buy anything. Believe me, in this small town there are definitely places where you can have a great time and not think about anything. And if suddenly for any reason it becomes boring for a tourist at Calista Luxury Resort, Belek will be happy to welcome guests with open arms.
If you have the opportunity to go to Side, which takes one hour, you can stroll along the embankment of this small cozy resort town, sit in a cafe and admire the ruins of an ancient Greek city.
You can, of course, try to plan your trip on your own and drive through the "savages", but it's better for a relatively small fee to use the help of the tour operator's guide and book an appropriate excursion.Believe me, the right organization will save you a lot of time and will allow you to avoid possible troubles.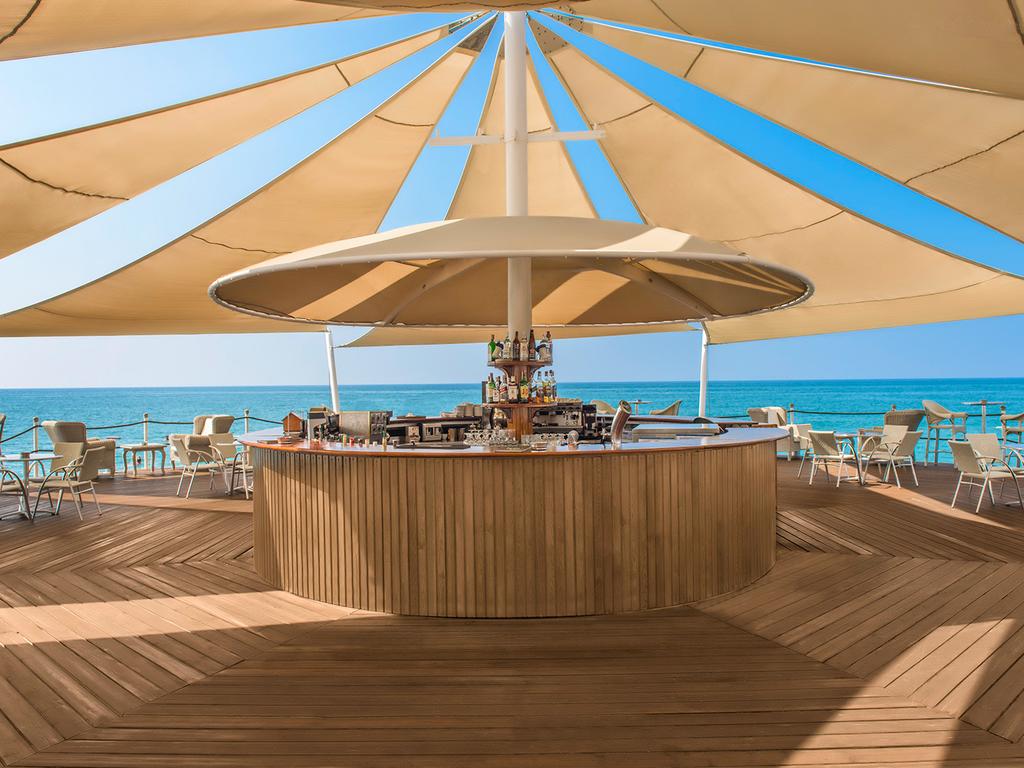 Swimming pool system
On the territory of Calista Luxury Resort a lot of pools. First you need to note those that belong to two-story villas. And only guests of the rooms can swim in them - this is one of the components of the VIP-service of the hotel complex.
There are also 5 outdoor pools that operate exclusively in the warm season. They are considered public, they can splash all visitors to the hotel. In one of them are five large slides, intended for adults only. Some are simple and gentle, while others are extreme and steep. This list is complemented by one indoor pool, which operates year round.
Finally, the previously mentioned children's pool with one small water slide should be noted - it is possible to swim in this hotel all year round.
Food. All Inclusive System
The food of the guests in the hotel complex Calista Luxury Resort 5 * is very well organized.
Buffet - this concept is used in the organization of catering for guests. It is also called All Inclusive.The bottom line is that three times a day (breakfast, lunch and, of course, dinner) in the main restaurant of the complex cooked meals are provided. Tourists at their discretion form the menu, they themselves choose products, dishes, vegetables, fruits and salads in the right quantity.
A pleasant surprise for new visitors of the hotel is a bottle of local wine and a basket of apples. Their vacationers receive on the day of arrival.
Each room has a mini-bar, the contents of which are updated daily. Bar for tourists is absolutely free.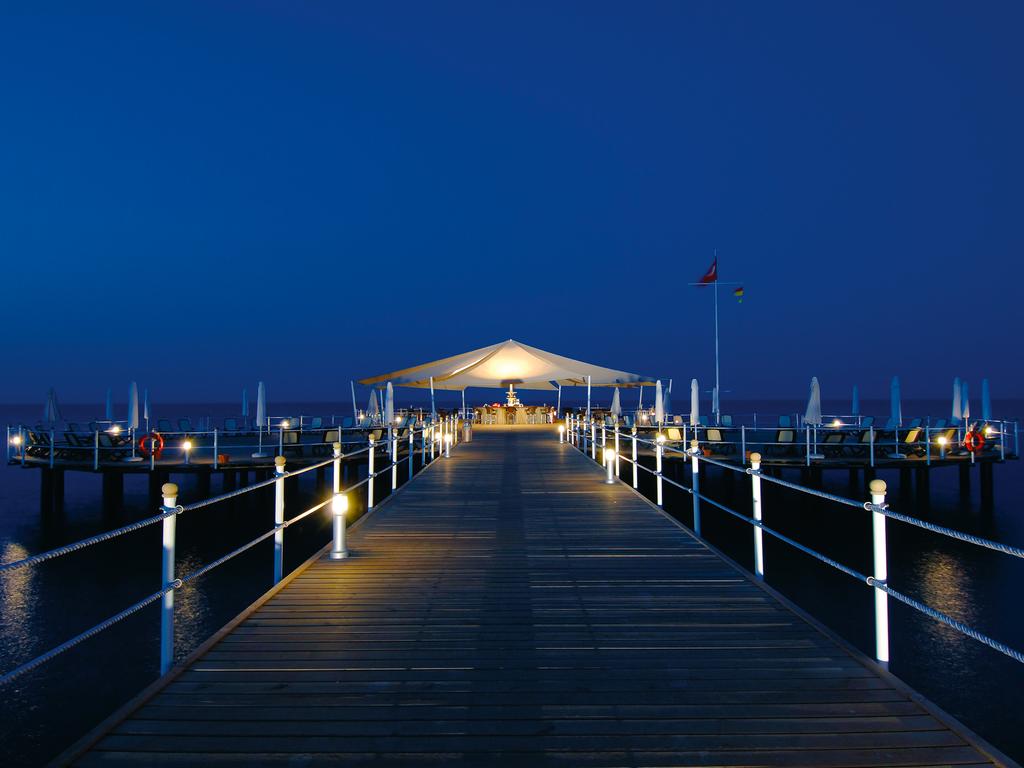 Restaurants
Also in the price of the tour is included a visit to the restaurant A La Carte, that is, guests can order any dish from the menu for free. The only thing you need to pay for is booking a table. Without prior reservation is impossible to get to the restaurant.
By the way, on the territory of the hotel complex there are 5 excellent restaurants. One of them specializes in local cuisine, the second - on the east. In some, you can taste South American and Italian dishes. The list is complemented by another fish menu at Calista Luxury Resort. Turkey today can really offer dishes of almost any cuisine, and this magnificent hotel is another proof of that.
Cost of
Hotel Calista Luxury Resort is a premium class hotel complex. Separate comfortable villas are an extra confirmation of this, so when booking a tour, remember that prices at this hotel cannot be low at first - get ready to pay a tidy sum.
If you are planning a vacation in May, then for two adult tourists you need to pay $ 2,650 for an inexpensive economy class room for 7 nights. In June, the cost of the tour will increase to 3,000 dollars. In July, the price will increase further and will be about $ 3,500. Again, this amount corresponds to the most economical number with an area of ​​52 m2.
If you want to relax in the Presidential Suite with three rooms, the cost of the tour will increase to 7,500 dollars for 7 nights. In August, the most economical room is estimated at $ 3,800 per week.
In September, when the peak of the season is passed and the number of tourists begins to gradually decrease, the cost of the tour is significantly reduced. As a result, an economy class room in a hotel will cost $ 3,100. In October, the price will fall even more and will be $ 2,400. In essence, the holiday season in this region of Turkey ends at this time of year.The weather is still good, the sun is not so scorching, the sea is warm, but the cool evening winds do not give a stroll along the coast after sunset.
The hotel complex is open all year round. You can buy a tour in November and in December, and even in January. In this case, you will need to lay out a minimum of $ 2,000 for 7 nights. Again, this amount is for two guests and for the most economical room of 52 m.2.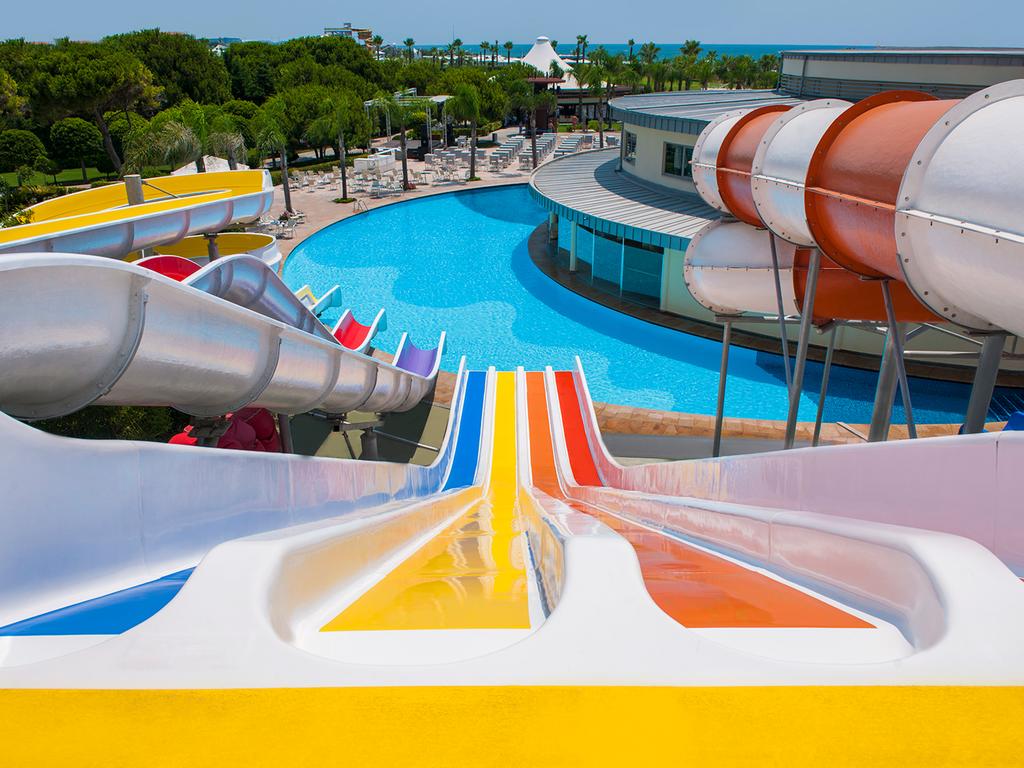 Recommendations regarding the place of choice
Now let's look at where it is better to buy tours in Calista Luxury Resort. On booking.com, the cost of rest at this hotel is $ 3,400 in September for 7 nights. Again, this price does not include airfare and compulsory insurance. If you look in the direction of tour operators, you can find more lucrative offers. For example, the same TEZ-TOUR reduces the cost to $ 3,100, while the tour is purchased on a turn-key basis, that is, this amount includes both flight and delivery to the hotel.
Anyway, but the most correct way is to purchase a ticket from a specialized tour operator. The previously mentioned price also includes insurance, which in some cases can greatly help out. Remember: never save on insurance!
Reviews
In addition to this, consider the real reviews of the Calista Luxury Resort. Visitors to this hotel complex characterize it exclusively from the positive side. The hotel has a well-developed infrastructure, on its territory there is everything that allows you to make the rest bright, dynamic and unforgettable. However, most services are initially included in the tour price. For example, there is no need to pay separately for a safe during a holiday - it is presented free of charge. The same applies to food, and tennis courts, and even bars on the beach or the pier - they are free. Buying a tour to this five-star hotel, the tourist gets a turnkey holiday.
The only downside to the hotel is the rather high cost. But, as we noted earlier, this is a premium vacation. The infrastructure of the hotel is perfect, everyone will find entertainment for themselves. In addition, almost everything in the complex is free for its visitors. That is, vacationers get everything they need for rest and even more, but there is no special need to make additional expenses.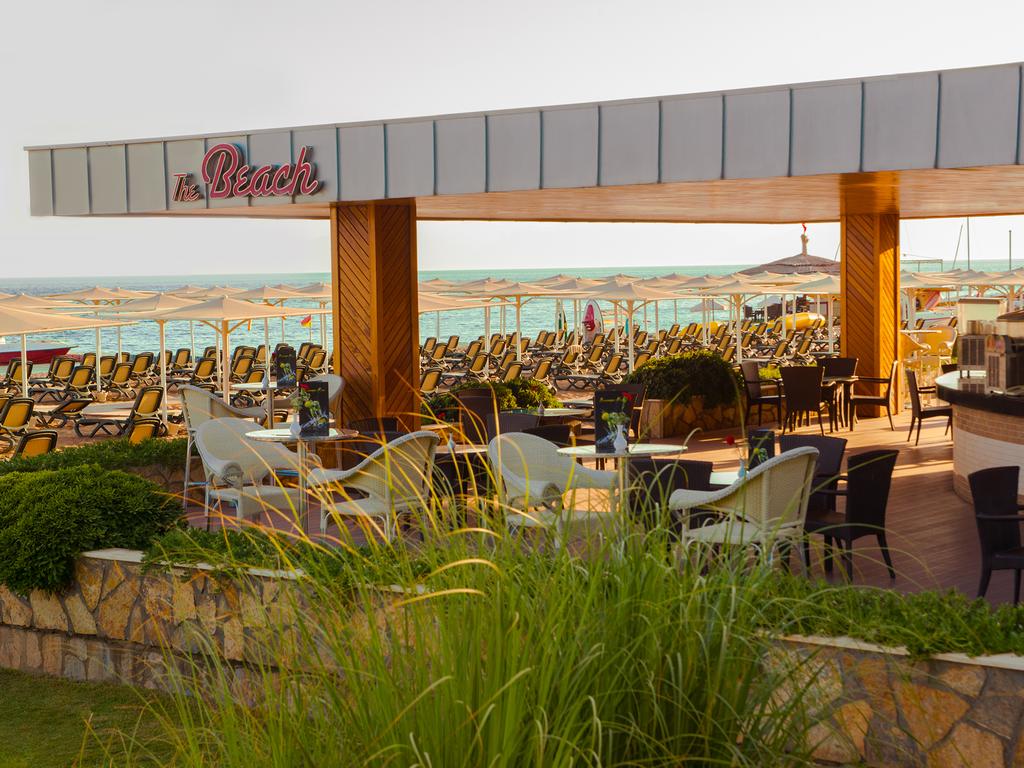 Conclusion
The concept implemented in Calista Luxury Resort, shows what should be a real comfortable modern holiday. On a spacious landscaped area of ​​120 000 m2There is everything that you can wish for. This golf course, and tennis courts, and many pools, and a chic set of water slides, and five luxurious restaurants with their own concept.
Another important feature of this hotel complex is 14 premium villas with private pools. One of them, with an area of ​​1500 m2considered truly royal suites. In the latter case, the visitor receives a cinema, a study, and even a jacuzzi. And all this is only for VIP visitors. The apartment provides individual service.
If desired, from the hotel you can go to the nearest settlements. One of them is the well-known Belek. It has something to see: historical and natural attractions, magnificent panoramic views of the sea, which open from the terrace cafe. Of course, nobody canceled shopping, but a more correct decision would be to go to the main city of the province - Antalya.
Another possible venue for excursions is Side. On the road to Antalya or Side will have to spend an average of about 1 hour.
Related news
Calista Luxury Resort 5 (Turkey, Belek): photo. description of rooms, service, reviews of tourists image, picture, imagery