"Beloved, sweet monkey, bread of soul and dream ..."
Their romance was short, but vivid, both of them were neither the first, nor the last, nor the only ones from each other. The writer suffered because of the impermanence and coldness of the actress, but he did not cease to admire her. Marlene Dietrich inspired Remarque to write The Triumphal Arch and became the prototype for the main character of the novel. This love was embodied in another novel - in letters. The future wife of the writer Paulette Goddard destroyed the letters of the actress, but the letters of Remarque remained. They have recently been published and voted "the most delightful love story of the twentieth century."
In the preface to the publication of the letters of Remarque to Dietrich V. Fould writes: "As a result, we have before us the last great love story in the 20th century, a grandiose illusion, full of lies and self-deception, but illuminated from the inside by the Bengal fire of Remarque, who has never been a writer to a greater extent , rather than in these intimate letters to his cold sweetheart.Originating from the depths of existential loneliness, these letters were addressed to a woman who existed exclusively in Remark's passionate desires. "
They met for the first time in a bar in a Berlin hotel in 1930, but they became really close only seven years later. The novel by Erich Maria Remarque and Marlene Dietrich lasted until the writer's death. He wrote letters to her, filled with love, tenderness and dreams. Remarque called the beloved "monkey", "the angel of the western window" and "earner", she always signed as "Puma".
Erich Maria Remarque from Porto-Ronco (11/25–07/12/1937)
Marlene Dietrich in Beverly Hills, Beverly Wilshire Hotel
[Stamp on paper: "Erich Maria Remarque", left] MDC 505−507
It's night now, and I'm waiting for your call from New York. Dogs are sleeping next to me on a record player that I found:
"Easy to love", "I got you my skin, awake from a dream" ...
Gentle! Favorite meekness! Among the mimosas around my house, a small branch has blossomed in recent days. In the morning sun, it hangs like a golden bunch in front of a white wall. Soft, like your sleepy breath on my shoulder ...
The sweetest ... sometimes at night I stretch my hand to pull your head closer to me ...
... But you already have a day, little by little street lights start to light up, you stand in the middle of your room, someone invited you to have dinner or go to the theater together, your evening clothes are laid out on the bed, and you don't know whether to wear a white dress with a gold corset from Schiaparelli or black and gold from Alyx. Or something with black sparkles? Or red and green from Alik? Or maybe a graceful suit from Lanuan, who will scratch your neck again? Or a greenish-golden dress from Hollywood, from the same fabric as the dress that was on Roche's mother in Maxim? Or one of those in the Greek fold, from Vioma?
Give me a cigarette, dear, - I'm tired of fittings. Now look in the mirror. Bright, beloved face! You briefly shake your head, throwing your hair back. One shoulder again below the other. And somehow he pulls ahead, Tobias will have to agree. And even Mr. Sheerbaun, whose face is more purple than that of the short man in the corner, will be forced to confirm. And when you take off your jackets, they slide off their slightly off shoulders, as if an angel takes them off you.
Forgot nothing? Oh yes! Coat, this cloak of goblin. Again at night it was full of brownies.As it swells on the sides - like a hamster's cheek. Not to mention the fact that it is wide open. O thou the most patient of all fallen angels! And then again there will be Chinese tea at Smith. And cupcakes, and cornflakes. And evil jokes, and cackle, and idle chatter. But first you comb your hair with a black comb. Tilting your head to the side, you will often bend them in a hurry, in spite of the pain. And then a sigh, a look out of nowhere and nowhere, an elusive smile turned to all and to no one in particular, a quick walk and warm evening breathing of the distant Champs Elysees ...
Pretty! Angel of the west window! Light dream! I will never swear again when you run away from an old man with a sciatica. My golden one, with narrow temples and sea-green eyes, in addition, I promise you will never swear because of a cursed silk blanket, to which your toes cling ...
Baby from the rink! Extraction of money! Do you dress warmly when you leave the house? Does anyone care for you? Do not ever take off your warm mittens, but you will not freeze your fingers! Blow your mittens from time to time with your breath! We still go with you to the biggest candy store,and I'll order you cocoa with whipped cream and a huge dish with apple pie. Thus, where on top is such a wise cross. And the head of the Moor. A whipped cream order as you wish.
But what is the use of all this - to be deceived by memories, when I love you, honey, and I am terribly missing you; I force myself not to think about it - about the dark, about the moment when I came to you, and the light was turned off, and you rushed out of the dark into my arms, and the room broke up, and the night fell apart, and the world fell apart, and your lips were the softest on the ground, and your knees touched me, and your shoulders, and I heard your gentle voice - "come in, come in again ..." - tremulous, o infinitely beloved ...
Erich Maria Remarque from Paris (after 12/07/1937)
Marlene Dietrich in Beverly Hills, Beverly Wilshire Hotel
[Stamp on paper: Hotel Prens de Gall "] MDC 520-522
Little cute monkey, well, what a miserable life! You are on the other side of the earth and from time to time you just do what you take and send a telegram. Is it so difficult to write a letter?
May be! No one is going to spur you on. Continue to negotiate with the ice rink manager. Although this is exactly what takes me very much - what did you agree with these devils: when will you start and how long will this story last? This is not because of my travels,- they still continue with an iron necessity - but just so that you know.
I'm here slowly, quietly losing my mind. One layer so superimposed on the other - and everywhere you look at me and ask questions. Are you really asking?
Keep asking! I bring fear to the owners of cafes and bars! The sober clubs are insistently calling me to themselves. For them, I do not care what a famous convert. Important news: the aquarists' union "Parsing" from Zurich elected me an honorary member. That was a childhood dream come true! After all, it is part of my youth: how many aquariums in my room at that time stood! And streams shining in the sun, and lakes in the forest, and the colorful world of fishes from the Amazon! I, for the first time in my life, accepted the offer and sent them a dying harvest wine of 21 years. Sometimes, if not always, the lot of the noble is to accept the trivial death. Wine will die in the throats of uncouth Swiss, hardly distinguishing white wine from red. Well, let! Who knows what else we have to do! The world already looks strange: even the Patek Philip watch company took and stopped. Broke down! Earlier than everyone else! Right now they are being repaired to the accompaniment of mockery on my part.
A small, sad panther with light hair living in a zoo - laugh, make fun of them all! There is nothing to be sad about idiots - they are created so that when they look like others are having fun.
Higher, higher! The wave is blue, the wave is green! Fly - fly with foam, with white foam in manes! Oh, that eternal resign! Anxiety is our lot and our happiness. And if I call on you with such despair ... - whoever. I returned my happiness to cry, so that what I wanted was fulfilled a thousandfold ... for only in you is the fulfillment of all desires, the beloved Fat of Morgan of the Lord ...
Erich Maria Remarque from Porto Ronco (after 12/24/1937)
Marlene Dietrich in Beverly Hills, Beverly Wilshire Hotel
[Stamp on paper: "Hotel Excelsior Palace" Lido - Venice ", left] MDC582
Oh God, I was struck like in my heart! Right now, when I got a clean sheet of writing paper out of the drawer, it turned out that this was the same ... One heaven knows how he got there! For me, this is not an accident. There are no accidents ...
You are in your brown suede suit ... and I really only now come up to your table with a telegram in my hand ... and in the telegram it says: "I arrived. I arrived, my love.
And I will again ... how heavy my fingers are! ..and my hands too, I am not able to survive this ...
And I will again - if I see you again, if I come or you arrive, then I will be again, and it will happen again, and I will see you, I will ...
I can't write anymore ...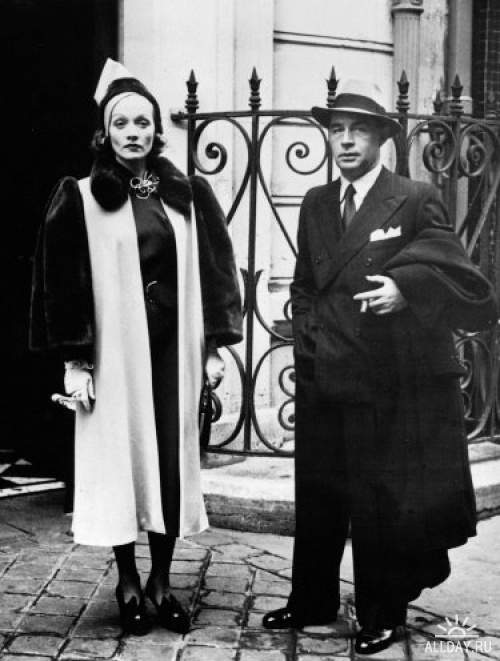 Erich Maria Remarque from St. Moritz (after January 9, 1938)
Marlene Dietrich in Beverly Hills, Beverly Wilshire Hotel
[Stamp on paper: "Palace Hotel" "] MDC 482-483
How long have I never heard the word "snoopsline" 1? As a word in itself, it is nasty - but from you? Call me at least Augustus2 - if only the tone was appropriate.
Beloved, sweet monkey, bread of soul and dream - I hate this my dwelling, I hate people and everything around in general - without you there is no real life! This existence is in the shadows, damned bustle: see and forget, go through and know nothing, like a film on a screen without sharpness, like turned off sight, turned off brain and turned off fantasy.
The newspapers wrote something about Paramount, they say, they do not want to extend the contract, and about you. If so, you could probably return in February. Then it would be more correct to wait for you here, and if you stay there, then I, no matter what happens with taxes, I will try to equip the gondola on January 29 ...
It's just scary how long the time, the heart of my heart, lasts - I withered without you, and nothing pleases me! Let's laugh again together! Everything around has become somehow painfully boring! Come to my shoulder and let's sleep with each other!
There is so much snow and cold here, and how wonderful it would be for you and me to go skiing or sledding.
Related news
Beloved, sweet monkey, bread of soul and dream image, picture