Armenian-style tomatoes for the winter - recipe
Tomato is a tasty and healthy vegetable. It is eaten not only in the summer, but also harvested for the winter. Tomatoes make salted, pickled, pickled, etc. It all depends on the preferences of the person. In the article we will look at how to cook tomatoes in Armenian. The recipe, despite the common name, provides a lot of variations.
Each housewife wants to please his family with blanks for the winter. Armenian-style tomatoes differ somewhat in their savory taste from traditional canned food. Any dish in winter time will delight you and give you a summer mood.
Red salted tomatoes
This preparation is preserved in a special way. In order to cook salted tomatoes in Armenian style with garlic, you will need the following ingredients:
Ripe tomatoes - 1 kg 200 g.
Salt - 15 g.
Garlic - 1 head (large).
Parsley - 1 bunch (small).
Celery - to taste.
Vegetables are desirable to take solid varieties, so that in brine, they retain their shape.Wash the vegetables, remove the tails and cut a bit of the core. Do not throw out hats from fruits, you will need them later.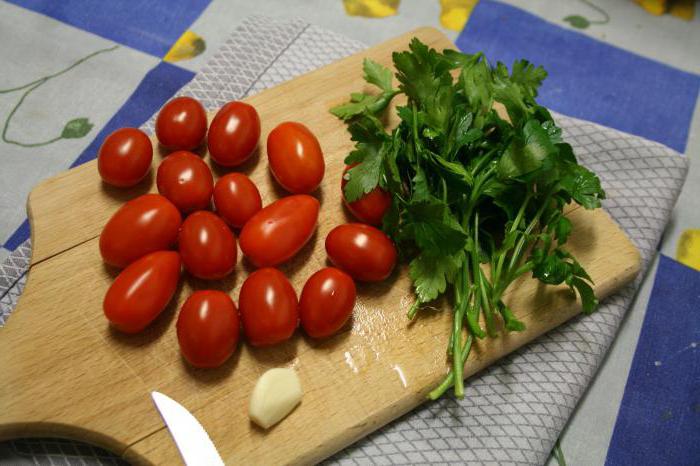 Wash garlic herbs, dry and chop very finely. All this mix in one container. It turned out filling. Put it in the fruit instead of the core. Now you can cover them with a hat. Put them in the container. Put vegetables tightly so that they do not turn over.
Now you can do the brine: take 1 liter of cold water, put 30 g of salt there (2 tbsp. Without slides). This brine pour vegetables. Then they should salt out for 3 days. You can put a container with a load on the tomatoes. They better take in the salt. After 3 days, tomatoes are ready to eat.
Green tomatoes
This recipe is in service with many housewives. Armenian-style green tomatoes with garlic are great for the holiday table. They are prepared as a snack, which turns out tasty and original.
For their preparation, take a pound of green tomatoes. Peel 1 hot pepper and two heads of garlic (30 g). Pass them through the meat grinder. Cilantro must be chopped very finely.
Cut the fruit as you like (in half or quarter).Sprinkle them with garlic and herbs. Mix gently.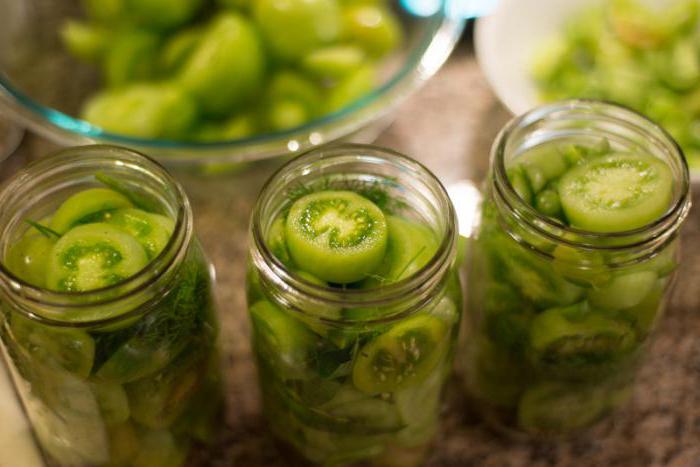 Now you can put them in jars with greens and garlic. If you like more spicy dishes, then you can add red hot peppers.
Prepare the brine separately: pour 0.5 liters of water, 400 ml of vinegar into a container and pour about 75 g of salt (5 tbsp). When this pickle boils, fill them with tomatoes. Now sterilize the jars of vegetables for 20 minutes. Roll up, turn over, wrap until cool. Clean in a cool place. Now you can wait for cold days and enjoy a jar of delicious green tomatoes.
Armenian pickled tomatoes for the winter
The number of ingredients is calculated on 1.5 kg of tomatoes. You must first prepare the filling. Take two red hot peppers and a whole head of garlic. They need very finely chopped. Prepare the greens: parsley and cilantro in one bunch, 1 sprig of basil for savor. Greens, too, finely chop. Make a cut along the tomato where the filling should fit.
For the marinade, put on the fire 2.5 liters of water, putting in it two leaves of laurel and half a glass of salt. Let the water boil. Now remove it from heat to cool.Tomatoes tightly put in a container, cover with brine. Fruits should be completely covered with liquid. Put a load on them. After 4 days, the vegetables are ready to eat.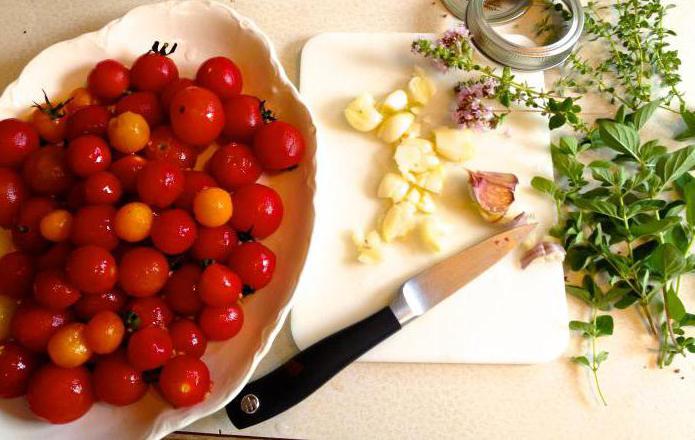 Armenians put red pepper in many dishes. However, this does not mean that it is necessary in the recipe. It all depends on your preferences and taste. If you like hot appetizers, two peppers - that's the thing. For slightly sharp vegetables, one is enough.
Armenian pickled tomatoes
This recipe does not provide a specific quantitative composition. Everything is done to taste. You can first try to make one jar. If you like, cook as you wish. Garlic - 5-6 cloves - lay on the bottom of the jar. There also need dill (a few twigs with umbrellas). Take just one horseradish root for the firmness of vegetables, quite a bit of basil and cilantro.
Pre-prepared ripe but hard tomatoes put in a jar on top of garlic with greens. For spice it is desirable to put a pod of chopped red pepper.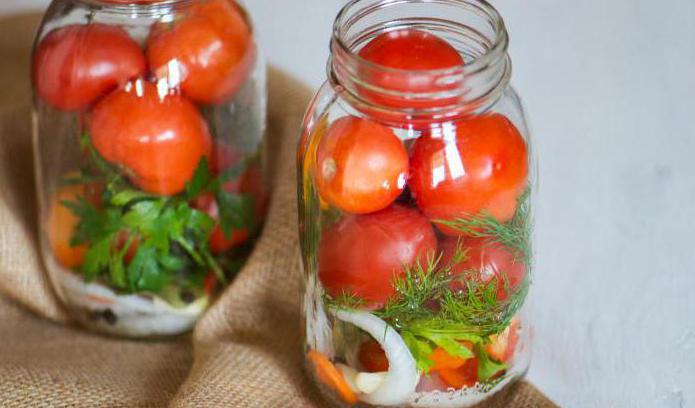 For brine, take 1.5 liters of water, put salt (30 g) and sugar (60 g) in it. Now boil this mixture. Pour the tomatoes with the cooled brine. Top with a mustard plaster, close the jar with a plastic lid and put in the cold. A month later, you can eat pickled tomatoes.In this brine vegetables can stand 3-4 months.
Experienced Culinary Tips
The taste of vegetables depends on the size, spice and even cutting. Therefore, try in one jar to stack the same-sized vegetables and greens. It depends on the taste of the finished product.
Green tomatoes need to be able to choose the right. They need to mature a little to get a billet for the winter. Do not pick green tomatoes right at the beginning. They should appear brown shade.
To prevent tomatoes from cracking during pickling or pickling, you need to gently pierce them with a toothpick or fork. Then they will stand longer and retain an attractive look.
Preparation for the winter is better to do varied. Therefore, cook tomatoes not only green, but pink, red. Each vegetable will give its own particular taste. Zakatka you get not only tasty, but also beautiful.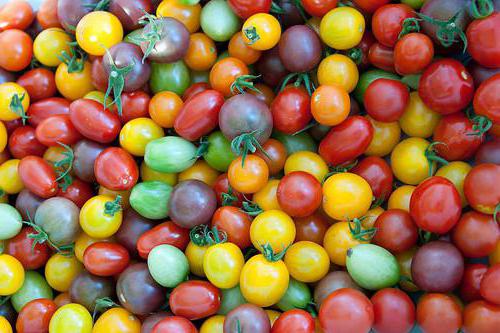 It is imperative to sterilize the jars. Then they will stand for a long time. If you need to sterilize filled cans with a prescription, just stick with the time. If less boil the container, most likely, the vegetables will spoil and not enough to the cold.
Conclusion
Tomatoes are healthy and tasty vegetables.However, they are picky when harvesting. But if you stick to the recipe, control the time correctly, then you will get very tasty vegetables.
Prepare tomatoes in Armenian for the winter and remember that each batch will not only be of particular color, but will also be to your taste. So do not be surprised that you get different snacks to taste according to the same recipe.
Related news
Armenian-style tomatoes for the winter - recipe image, picture, imagery